BLBB Charitable has released its first-ever public annual report. And what a year 2020 has been.
In 2020, as our communities and world struggled, the foundation awarded almost $1.5M in grants to the community, a nearly 45% increase from 2019.
As this Annual Report highlights, BLBB Charitable's reach is both wide and deep. From its employee gift matching and volunteer incentive programs, to its multi-year impact philanthropy grants in education and leadership programs, the foundation touches thousands of lives, creating stronger social connections and brighter futures for many.
Learn more by viewing the BLBB Charitable 2020 Annual Report.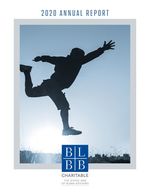 Click to open Flipbook